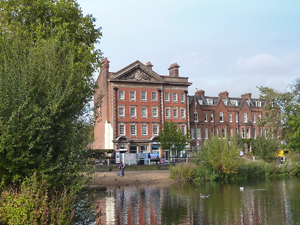 John and Tabitha Terence-Jones have lived in Singapore for eight years. But, while the couple rent their Asian home,back in Britain, their property portfolio is booming. The pair, who work in insurance and HR respectively, initially decided to let out their home in Wandsworth, southwest London, while they were away. After fees, it brought in £1,500 a month, in addition to the £1,100 they were making on a one-bedroom flat in Balham they already let out. Six years later, the couple bought a three bedroom property in Barnes for £750,000, which nets £2,700 a month after fees.Having sold their Wandsworth property last year, they have now bought a second house in Barnes, which they hope will rent out for about £2,300 a month after fees. "We rent in Singapore, where the property market is more expensive than London, but the yields aren't as good, so it makes more sense for us to have a buy-to-let in a market that we know," says Tabitha, 37. "We also want to keep a foot in the British market as our plan is to return at some point. We have other investments that haven't done very much in the past few years, but buy-to-let has a number of possibilities - we can sell the properties when we return to Britain, or we can keep one and continue to rent it out." The Terence-Joneses are not the only expats looking longingly at Britain's shores. "We have certainly seen an increase in the number of expat mortgage inquiries we are receiving," says Strutt. "Over the past few weeks, we have spoken to people in Saudi Arabia,China and Kenya, all looking to buy a property here."

Chris Peskett, who runs Apparent Properties, based in Barnes, and who manages the Terence-Jones properties, agrees. "We seem to have had a bit of an influx [of expat buyers] in the last year," he says. "Whereas before their money might have gone into a hedge fund or pension, now they're thinking property." Such buyers, he says, "know at some point they want to come back to the UK, but in three years' time they won't be able to afford to buy here, so they're planning ahead".

As Tabitha Terence-Jones puts it,"Buying to let gives us flexibility. Not only are we paying off the mortgage, but we've got money from rent and somewhere to go if and when we return."